Contact
You have questions, we have the answers
Contact us at
+49 (0) 7193 93 12-0
for all questions
Contact form
We look forward to your message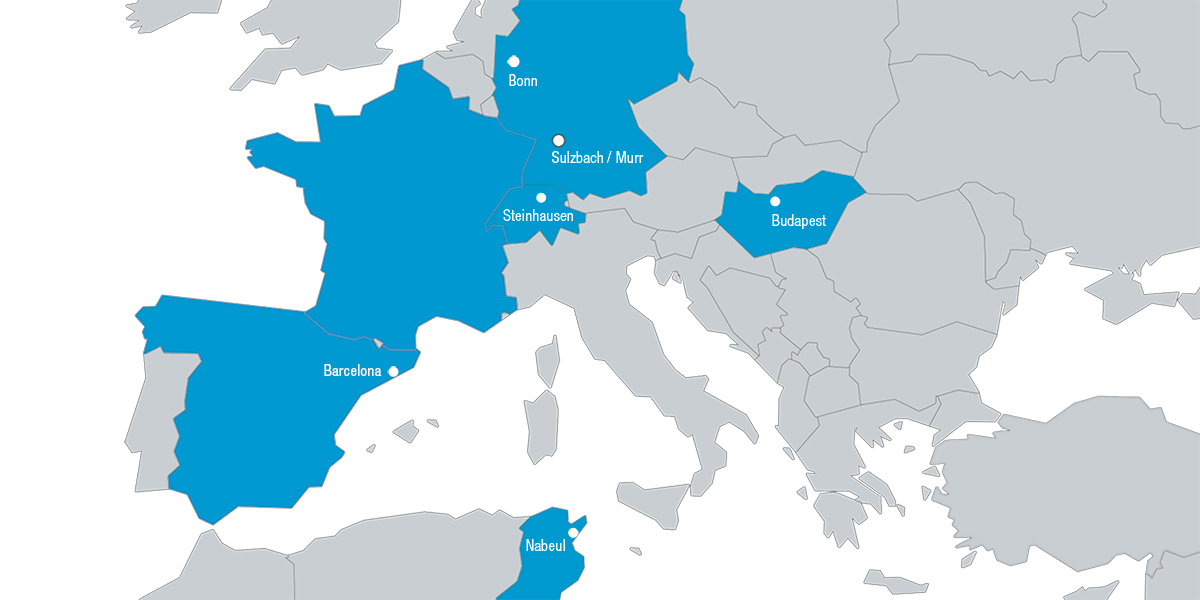 L-mobile Germany | Headquarters
Löchner group AG | L-mobile solutions | L-mobile saas GmbH & Co. KG
Im Horben 7
71560 Sulzbach an der Murr
Tel.: +49 (0) 7193 93 12-0
L-mobile infrastructure GmbH & Co. KG
Gartenstraße 51
71560 Sulzbach an der Murr
Tel.: +49 (0) 7193 93 12-0
L-mobile Systeme GmbH & Co. KG
Kesselgasse 5
53111 Bonn
Tel.: +49 (0) 7193 93 12-240
L-mobile swiss AG
Sumpfstraße 32
6312 Steinhausen
Tel.: +41 (0) 41 741 04 04
L-mobile Hungary KFT
Baross u. 114-116.
1082 Budapest
Tel.: +36 1 459-5758
L-mobile tunisia S.a.r.l.
30 Rue de Sousse
8000 Nabeul
Tel.: +33 5 17059968
L-mobile solutions GmbH & Co. KG EP en España
Plaza del Gas 1
Edificio B, Planta 1, Oficina 407
08003 Barcelona
Tel.: +34 682 905 511
FAQ
Frequently asked questions
How can I apply for a job at L-mobile?
All currently advertised jobs can be found on our job portal. You can either apply for one of the open positions or send us an unsolicited application. Please send your documents by email as a PDF document to jobs@l-mobile.com
How can I become an L-mobile partner?
L-mobile maintains close partnerships with a variety of well-known companies. If you are also interested in a partnership with L-mobile, please contact our employees in telemarketing. They would be happy to give you more information about how you can become an L-mobile partner. Click here for an overview of our existing partnerships:
What services does L-mobile offer?
L-mobile develops software solutions for optimization of your business processes. In addition to software development, we see ourselves as a full solution provider and are also available to you as a service provider, for example in the area of wireless LAN signal strength measuring or RFID analysis, to provide advice and professional recommendations.
Which products does L-mobile offer?
The product portfolio of L-mobile includes digitalized process design in the warehouse, logistics, production as well as in customer and field sales service.
Which regions does L-mobile offer its products and services in?
The main catchment area for L-mobile customers is the DACH countries. In addition to Germany, Austria and Switzerland, L-mobile also offers its portfolio internationally.
Who are customers of L-mobile?
Most of our customers are medium-sized industrial companies. An increasing number of large corporations and small businesses have also recognized the added value of our mobile application and no longer want to work without it. You can find a sample of our customers in the reference overview:
Where can you find L-mobile?
L-mobile has two locations in Germany as well as branches in Switzerland, Hungary, Tunisia and Spain.
Where can I learn about the L-mobile product portfolio?
You can naturally learn more about our solutions on the respective product pages of our website. The interactive section of our site also provides additional information such as product brochures, themed articles and product videos.
How can I stay up to date about the latest developments and trends?
You can subscribe to our Expert Info to make sure that you don't miss any news about our software solutions. You will receive information about the product area relevant to you by email at regular intervals.
How can I experience L-mobile live?
The L-mobile expert day is held twice annually at our headquarters in Sulzbach an der Murr. We also offer monthly live events in our Digital Factory showrooms and Digital Service Center. Our on-site staff would be happy to answer any questions you may have about our product portfolio for trade & industry as well as service management.
What makes L-mobile stand out as an employer?
L-mobile attaches great importance to work/life balance. The working environment of our medium-sized software company features flexible working hours, working from home as well as numerous sport and leisure offers.
What added value do our solutions offer?
Our mobile software solution minimizes the complexity of your ERP system. The simple display interface and clear selection options ensure intuitive and user-friendly operation. In the event of a change in ERP, the presentation and application of our solution remains unchanged.
Are the L-mobile solutions tied to a specific ERP?
No, our mobile software solutions can be connected to all common ERP systems. Due to our partnership with many ERP providers, we already have standard interfaces and can guarantee smooth implementation of our solution. If you want to change your ERP system, the ERP independence of our L-mobile solution means that you can continue using it with the new ERP system.
Which industry is L-mobile active in?
L-mobile customers include companies from a wide range of industries. We cover all industries, from trade and manufacturing to all types of service companies.
What are the features of the L-mobile solution?
The L-mobile solution is flexible, intuitive and expandable. You can add further functionalities to our solution at any time and also combine it with other technologies (PDA, printer, tablet, Pick-by-Light, E-Label, UWB, Bluetooth Low Energy, etc.).